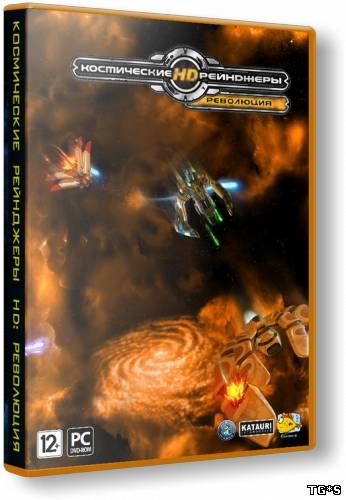 Игра: Space Rangers HD: A War Apart
Версия: Update v2.1.1650
Поддерживаемые языки: Rus/Eng
Релиз-группа: BAT
Защита: Steam
Требуемая версия: любая
Changelog
Код:
Build 2.1.1414
-Initial English Release.
Build 2.1.1540
Bug fixes:
- Fixed a bug that caused the tutorial script not to start sometimes;
- During the tutorial it is no longer required to visit the government at a planet where you need to sell medicine;
- Fixed a bug when sold goods weren't counted for a tutorial quest and one of Khan rank special missions;
- At the "Khan" rank special mission (filmmaking) the ruler now deals only minor damage during his fight with Bambays;
- Fixed missing ship names at ship hiring special mission for achieving Khan rank;
- Fixed various text mistakes and mistypes;
- All acrynic equipment and micromodules bonuses descriptions were reworked to make them clearer;
- Manual update and other minor fixes.
Balance changes:
- Reduced the amount of pirate rank score given for destruction of Coalition bases;
- AI logic for choosing the hulls, equipment, micromodules and loot spending has been significantly reworked;
- AI equipment generation mechanism at planets and space stations has been reworked, also the advanced adjustment option for availability of large-sized hulls to Coalition and pirate ships has been removed;
- Pirate AI is updated, now they can run from their systems instead of fighting till the end;
- Cowardice of peaceful ships was increased, now they are more likely to accept aggressor's demands;
- If there is only one military base left, it will not jump to dominator systems anymore;
- Electronic cutter and Flow Blaster now can be dropped by destroyed dominators at galactic tech level (GTL) 3 instead of 4;
- Amount of experience given for system liberation has been reduced;
- Durability of an item can be seen as an absolute value now. Durability bar size is now proportional to item durability;
- Durability and other parameters of various hull series and acrynic equipment has been adjusted;
- Pirate generation mechanism has been adjusted: if they have only a few systems under control, less but better equipped pirate ships will be built;
- "Shadow of Empire" now has 3 weapon slots instead of 5, hull armor is increased by 4 points;
- Hybrid droid is now given with "Universe" micromodule pre-installed;
- "Acrynator" micromodule and "Renegal" hull series bonuses were significantly increased;
- Hybrid droid bonuses were slightly increased;
- Planetary battle bonuses have been rebalanced. Now the global game difficulty will also proportionaly affect friendly fire level for player robots. The bonuses themselves were increased, but mission reward for playing with bonuses has been reduced.
- Technical progress scale at "Equipment" option has been changed to 1.1, 1.0, 0.9, 0.8 from 1.2, 1.0, 0.9, 0.75.
Additions:
- Two new dominator ship types with unique capabilities, Klig and Bertor, were added to the game. See details in the manual;
- Micromodules dropped into space are now amimated;
- Search function has been updated – now it's possible to use multiple words in a search, so it's easier to find modified weapons and items. Search results include item durability;
- Copy protection lock from English dat file has been removed and new options for modders were added.
- New cheat code WARRIORMAX, spawning military ships at all Coalition systems has been added.
Build 2.1.1608
Bug fixes:
- Zing artefact is now working correctly;
- Fixed a crash, that happened when player stayed over the star without the fuel tank installed;
- Bertor and Klig logic was fixed, now they will not leave the dominator controlled system completely unprotected just by flying away;
- Khan reward script was fixed, now its offering Renegal hull as should be;
Balance changes:
- Hulls now have separate resists to different weapon types, depending on manufacturing race and tech level;
- Chance to find female secret agents on-duty was increased;
Additions:
- Hull durability bar is now showing total value of durability, not only its factor;
- Player can now use up to 9 equipment load outs, using the 1-9 keyboard keys;
- In text quests, you can now use 1-9 keyboard keys to select replies;
- Option for custom auto-off for afterburner function was added. You can choose desired deterioration percentage for auto-off, or disable it completely. Also turn now always stops after disabling afterburner.
- Added new features for modders;
Build 2.1.1640
Bug fixes:
- Crash when player is located in a hangar of annihilating station was fixed;
- Very rare random crash was fixed;
- Bug in special mission for Khan rank for staging with ruler was fixed;
- Incorrect path icon switch when changing the order type was fixed;
- Bug that appeared only at very weak videocards at the reward after the Capo promotion was fixed;
- Big delay at some training hint was fixed;
- Fixed various text mistakes and mistypes;
Additions:
- Added new features for modders;
Build 2.1.1650
Bug fixes:
- Incorrect news order at information center right after starting new game was fixed;
- Rare random crash happened during the destruction of the base that has ships in hangar was fixed;
Balance changes:
- Bases are now able to use rocker weapons without radar and at full range;
- Minimal firing range for rocket weapons without radar was doubled;
Additions:
- 15 new government missions, made specifically for pirate planets, were added;
- During the dialog with Tranclucators, you are now able to relay current order to all of them simultaneously;
- Warning message about necessity to install radar on the Tranclucator for proper use of rocket weapons was added;
скриншоты [UPDATE] Space Rangers HD: A War Apart - Update v2.1.1650 (Rus/Eng) - BAT
Топ Torrent раздачи за последние 48 часов:


Комментариев пока нет. Стань первым!