Pirates of Black Cove [1.0.3] [RePack] [ENG и добавлен русификатор] (2011)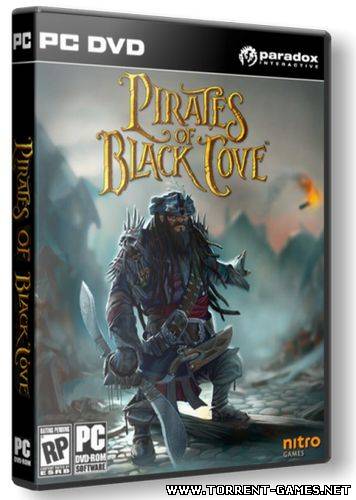 полный обзор
Год выпуска: 2011
Жанр: Strategy (Real-time) / RPG (Rogue/Action) / 3D
Разработчик: Nitro Games
Издательство: Paradox Interactive
Системные требования:
• OS: Windows XP/Vista/7
• Processor: 2.0 GHz Core Duo or equivalent processor
• Memory: 2GB RAM (256 MB of dedicated memory with support for pixel shader 3.0)
• Hard disk space: 4 GB hard disk space
• Video: GeForce 8600 or equivalent Video Card
• Sound: DirectX 9.0 Compatible Sound Card
• DirectX: DirectX 9.0
• Additional: 3-button mouse, keyboard and speakers
Тип издания: Repack
Язык интерфейса: Английский и Русский (Русификатор)
Язык озвучки: Английский
Лекарство: Не требуется
Описание:
XVI век, Карибское море. Эскадры пиратских кораблей и корсаров бороздят воды около побережья Америки и карибских островов, но у них нет человека, способного объединить их в грозную силу. Сможете ли вы добиться признания и титула Пиратского короля, взяв под свой контроль все торговые пути, по которым перевозятся в Европу щедрые дары Американского континента?
Порядок установки
1. Запустить setup.exe
2. Дождаться окончания установки
3. Играть
Важно: путь до папки с игрой не должен содержать русских символов
Особенности RePack'a
* Аудио качество - 100%
* Видео качество - 3 ролика 100%, 1 ролик (Logo) удален, остальные перекодированы 35-40% (качество нормальное)
* Запуск игры через ярлык на десктопе или через меню пуск
* Для установки необходимо 512 Mb ОЗУ
* Время установки от 3 до 15 минут
* Вшиты патчи - 1.0.1 , 1.0.2 , 1.0.3
Добавить в закладки
Удалить из закладок
Pirates of Black Cove [1.0.3] [RePack] [ENG и.torrent